TL;DR
Ethereum Merge in 12hrs
As The Merge upgrade is approaching, to help node operators, users, and community members Ethereum developers organized multiple community calls to answer questions. We, the team of EtherWorld, bring last minute tips to lower the anxiety related with the upgrade, here is a quick post on the summary to answer a few questions with a bonus of helpful resources.
Etherchain x Beaconcha
Etherchain.org, the first Ethereum explorer, has now merged with Beaconcha.in. This has lead to several UX improvements for stakers and the average user:
No more explorer hopping between consensus layer & execution layer
Beaconcha.in is now ~10x faster enabled by Bigtable
New Features include

👉 Account viewhttps://t.co/iKdtsIVdDJ

👉 Merged slot & block viewhttps://t.co/MifgdYSKcX

👉 Token view: https://t.co/W4sCj61Kuf

👉 Latest Tx's https://t.co/T6uRDWfRzH@ensdomains, Charts, mempool support will come soon

— Bitfly (@etherchain_org) September 14, 2022
Last Chance to Upgrade Clients
Before the Merge upgrade, all node operators should update their clients w.r.t. latest releases listed in the official mainnet merge announcement.
ETH PoS Teaser by Etherscan
EtherScan team has shared some quick screenshots on how the platform will look like Post-Merge.
Teaser for tomorrow... POS block finalization status ⏳⌛️✅ pic.twitter.com/YlNXgR4tVh

— Etherscan (@etherscan) September 14, 2022
Geth Jarfor (v1.10.24) Release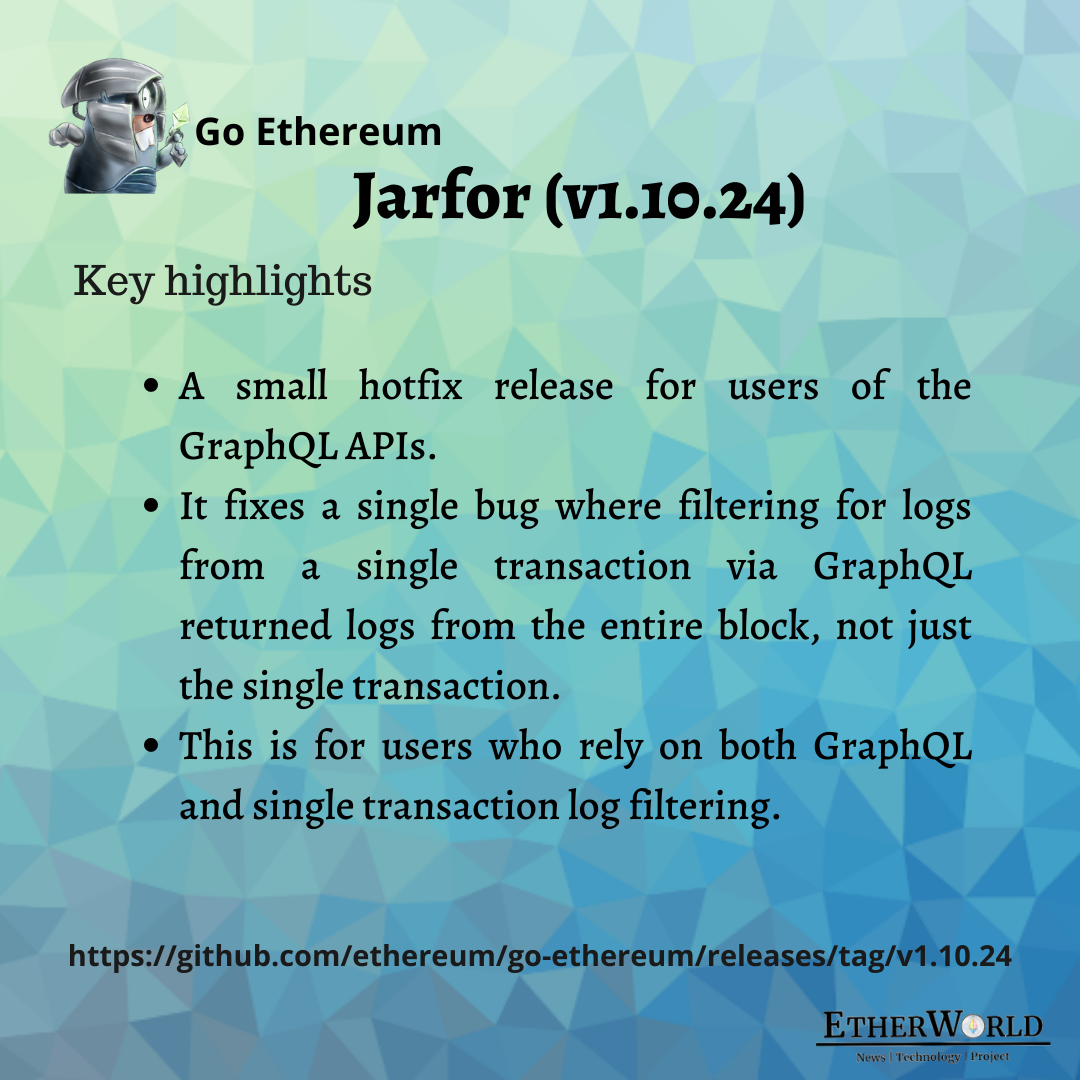 Read more
Read more about Ethereum in previous Bulletins - Ethereum Bulletin
Related Articles
______________________________________________________________________
Disclaimer: The information contained on this web page is for education purposes only. Readers are suggested to conduct their own research, review, analyze and verify the content before relying on them.
To publish press releases, project updates and guest posts with us, please email at contact@etherworld.co.
Subscribe to EtherWorld YouTube channel for ELI5 content.
Support us at Gitcoin
You've something to share with the blockchain community, join us on Discord!
---
---