Letting users know about the company's latest news, updates and alerts are important to keep them engaged and informed. One tactic to reach online users is to push notifications. It is an efficient way of real-time communication with the audience. An India- based blockchain startup is delivering an opportunity to communicate with customers through mobile push notifications today. Ethereum Push notification service is a decentralized notification service making it possible for DApps to send push notifications to Ethereum wallet users. It is similar to what Apple push notifications services do. APNs allow third party application developers to send notifications to applications installed on iOS devices.
The Ethereum based startup recently raised $750,000 seed investment from notable web3 leaders including Balaji Srinivasan (Fmr CTO of Coinbase, General Partner at a16z. Cofounder of Earn, Counsyl, Teleport), Kenneth Ng (Ethereum Foundation), Scott Moore (Co-founder, Gitcoin), Mariano Conti (Fmr Head of Smart Contracts, MakerDAO), Anthony Sassano (EthHub / TheDailyGwei), DeFiDad (COO, Zapper.fi), Ravindra Kumar (Frontier Wallet), Preethi Kasireddy (Fmr Partner at a16z) among others.
What is Ethereum Push Notification Service (EPNS)?
EPNS is the world's first notification protocol based on the top of Ethereum blockchain technology . It empowers users' (wallet addresses) to receive notifications from dApps & DeFi services like AAVE, Compound on their mobile apps, crypto wallets or web browser. The process is completely decentralized and ensures user privacy. EPNS acts like a middleware layer that paves way for dApps and other services to send notifications to wallet addresses directly in a decentralized manner. The middleware ensures a spam-free, user-centric transparent environment for the services and users to communicate.
The Problem and the solution
The world is going through a fundamental transformation with the emergence of new technologies. Blockchain technology is one of the most disruptive technologies enabling to address most of the exchange limitations and facilitates future application opportunities. Despite that, services have not been able to employ the technology to enhance effective communication with their customers. According to the founder Richa Joshi,
"Today, communication between provider and consumer often occurs on mediums like email, social media like Twitter, and community platforms like Telegram. These methods defeat the purpose of Web3.0."
Users of money market protocols like AAVE and Compound have to manually check about loan liquidations. Every time a trade order is placed on a decentralized exchange (DEX), the users have to go back to the wallet to check the status of the transaction. Such notifications are not received by the users that often leads to misunderstanding and late in getting a response from the users. In case such notifications are received, users can instantly respond to the latest alerts, recommendations and know about real-time updates. This built trust and communication between the company and the audience.
EPNS Governance
The DeFi characteristic of the EPNS protocol incentivizes users to earn rewards. The protocol has $PUSH , a non-refundable functional utility token designed to reward users for continuous involvement and engagement in the adoption of the protocol and to achieve the vision of becoming web3 notification standard. $PUSH will be used as a medium of exchange to interact on the protocol. The token is necessary to vote on the features of the protocol. The protocol fees are charged in $ETH or $DAI within the EPNS protocol, but the $PUSH token holders may vote to change these fee parameters.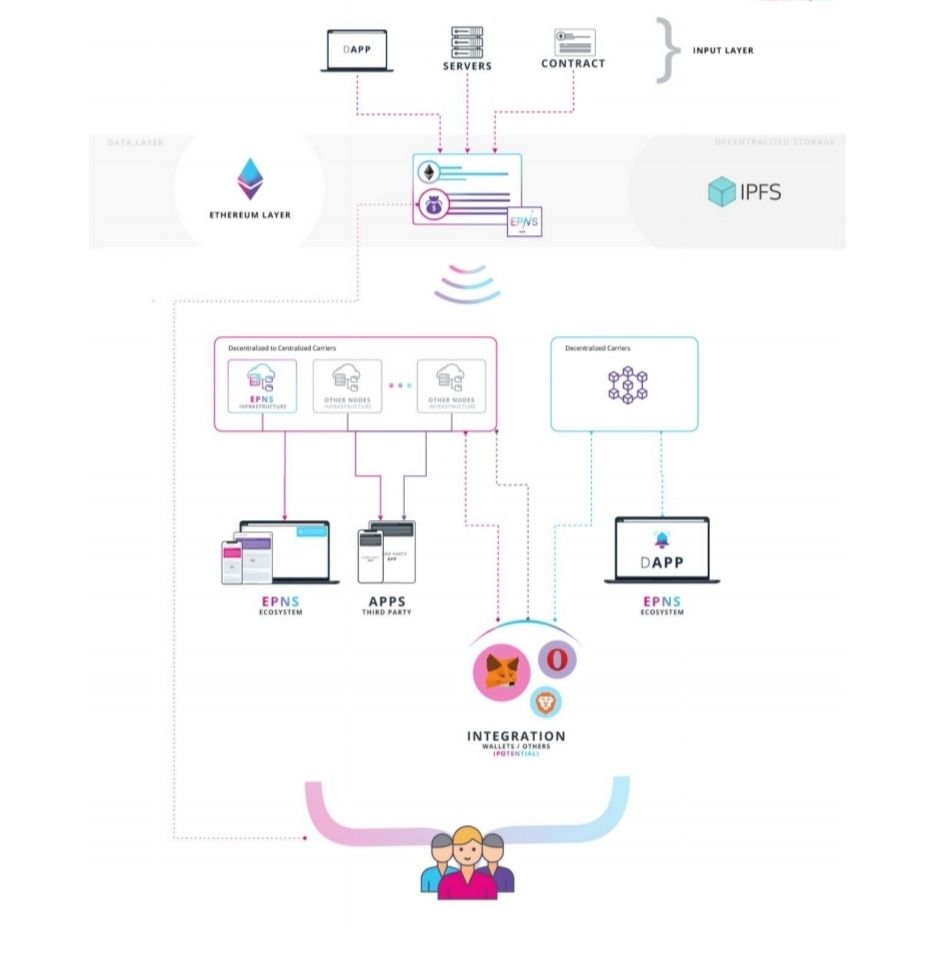 Using Game Theory for governance
The EPNS protocol makes use of game theory of governance to populate its ecosystem with more users and encourage activity.
Every participant in the protocol is incentivized for putting in efforts and based on engagement. The users will bring more services to theplatform resulting in an increase in the fess pool.
Service providers are incentivized to push notifications and continued performance on the protocol. Third party developers create channels to capitalize on liquidity mining. Whereas Users are incentivized to receive notifications from the service on web3. New wallets that would join the EPNS ecosystem are incentivized to contribute to the growing reward pool of EDP. More funds flow in the protocol as more notifications are sent and received. $PUSH holders are rewarded for keeping and passing the best proposal and maintaining best rates.
EPNS Features
Incentivize users
The service is required to deposit 50 DAI or more as a staking fee to activate themselves and send the notifications to their users. This stake is lent out to AAVE DeFi protocol . The generated interest is distributed to the users who selected EPNS for receiving notifications. Those who join the protocol earlier are rewarded a little more than others.
Universal notification delivery
EPNS protocol delivers notification directly on to the home screen of the mobile, browser or wallet, etc. The icon of the channel is automatically added to tell from where the notification is coming. The fees deposited by the service for maintaining a position on the protocol is shared with all wallets and infrastructure providers that in turn send the notifications to the user's wallets.
Flexible Payload
Each notification sent to the protocol is essentially a JSON payload. The payload is distinguished into different types-
Direct Protocol Payload (Type 0),
Broadcast Payload (Type 1),
Secret Payload (Type 2) and
Targeted Payload (Type 3) along with
Multi-Targeted Payload (Type x) and
Blacklist Payload (Type x) as an addition to future payload.
The data carried by JSON payload is used to define the extent of that functionality.
User-operated
The user has the privilege to subscribe to a channel through an on-chain event and select which service they want to receive regular notifications from. The users get rewarded in tokens from the notifications they get.
Spam score and throttling
The protocol wants to keep its platform safe and secure for the customers and prevent itself from becoming a bad actor. It has built a unique system to prevent channels from unhealthy activities. Each channel is scored on a scale of 0-1. A spam score of 0 means that the channel is a good actor. Whereas value 1 means the channel holds the channel in a negative position for adopting unhealthy means.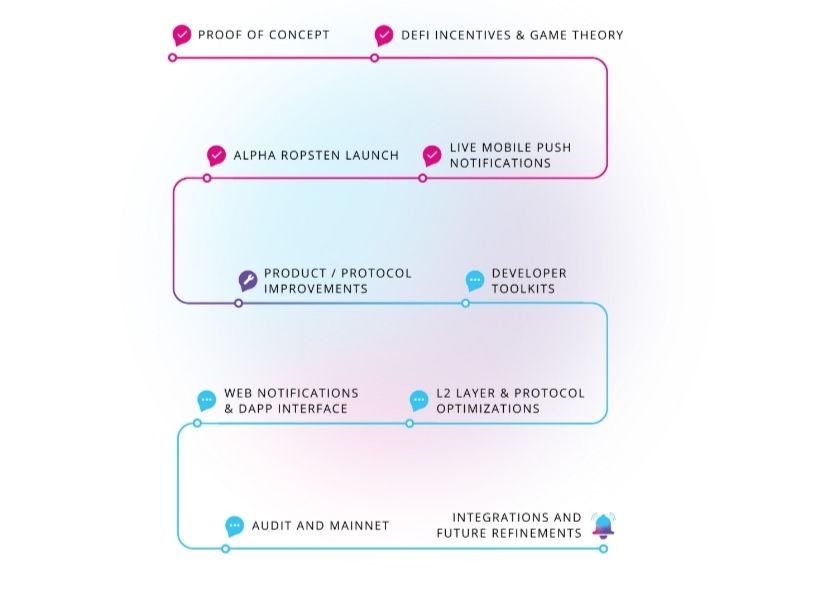 In September this year, EPNS won grants from popular money market protocol, AAVE. EPNS will be using AAVE protocol to generate EPNS Channel stakes on Mainnet. The company also [won grants from ethereum-based scalability platform, Matic Network and announced its partnership](https://medium.com/ethereum-push-notification-service/epns-secures-partnership-with-matic-along-with-a-sweet-grant-b956a85c3151) earlier in August. EPNS protocol utilizes Matic Network for optimization and scalability. The partnership is essential for Matic Layer-2 solution to drive high-performance. Ethereum Push notification service lets Matic to engage more audience to its network. The EPNS protocol is available for both Apple iOS and android users. The company is soon planning to launch its own EPNS dApp. The EPNS is providing its notification services for notable clients such as Coin Crunch India, BanklessFR, ETH Tracker, POAP and ENS.
Roadmap
Harsh Rajat and Richa Joshi started EPNS in January, 2020 in Mumbai, India. The platform is able to establish its position in the blockchain industry in just a few months. When asked about plans to go live on mainnet, Harsh replied that the work is still in progress,
"we are done with 80% of the tech implementation with just a few features of whitepaper and some governance implementation of MVP missing, after which an audit will be done. It is too early to outline the timeline yet but the protocol will be live on the mainnet pretty soon."
Ethereum 2.0 is the new game changer in the market that appeared this year. Our team asked Rajat how he will integrate the latest update in the technology into his benefit. He said that he will have L2 implementation, the work on which is going on," Eth2 will multiply the already scaling tech of that L2 with the amount of shards though eth2 is still developing so this is an ever evolving research."
Ethereum2.0 debuted on December 1 this year. The launch of the Eth2.0 beacon chain should be seen as a giant leap forward in blockchain technology. The launch of Eth2.0 is the biggest step towards introducing transition from Proof of Work (PoW) to Proof of Stake (PoS) consensus network. Ethereum Push NOtification Service is an initiative ahead of time. The protocol not only benefits the service but also the user in far multiple ways by incentivizing them. Such innovations using Ethereum blockchain will take forward the blockchain technology towards normalization and mainstream adoption.
Also Read
________________________________________________________
Disclaimer: The information contained on this web page does NOT constitute financial advice or a solicitation to buy or sell any cryptocurrency contract or securities of any type. Trading is a high-risk activity. Readers are suggested to conduct their own research, review, analyze and verify the content before relying on them.
To publish press releases, project updates and guest posts with us, please email at contact@etherworld.co.
You've something to share with the blockchain community, join us on Discord!
Follow us on Twitter, Facebook, LinkedIn, Medium and Instagram.
---
---